Salt Spring Island News
New CFSI Owner Pledges
To Maintain Format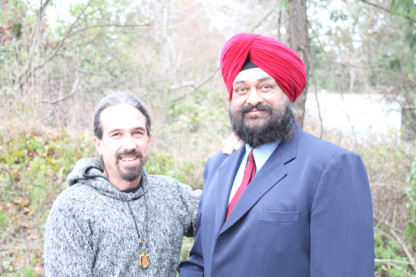 Salt Spring Island Radio Corp. owner Gary Brooks, left, with new owner Dave Dhillon of Satnam Media Group, who takes control of the business on March 1. Elizabeth Nolan | Driftwood Gulf Islands Media
By Elizabeth Nolan on February 12, 2013
CFSI's community-based radio programming won't change under new ownership, according to station founder Gary Brooks and Suhkev "Dave" S. Dhillon, who takes possession of the business March 1.
Rumours of the radio station's sale were in full force Friday morning, surprising community members, station personnel and the volunteer hosts responsible for most of the shows. But Brooks said the purchase hadn't been finalized, which is why he hadn't shared it with staff and volunteers.
"It's unfortunate these rumours started," Brooks said.
"I didn't announce the station was for sale because for any business it's not prudent to announce [you want to sell it]. I went through an official broker."
"I think whoever found this information should have gone to Gary and said 'Gary, what is this?'" said Dhillon, referring to a CRTC letter of approval that sparked a fury of speculation.
The letter from the Canadian Radio-television and Telecommunications division dated Jan. 21 grants approval for the transfer of shares and effective control of the company from Brooks to Satnam Media Group, with Dhillon listed as single shareholder. The letter notes that a Sept. 27, 2012 share purchase agreement between the parties sets out a purchase price of $205,000, with an additional assumed lease value of $130,200.
As a commercial station run largely according to a community radio model, CFSI has offered a variety of programs through volunteer DJs and talk show hosts since its inception three years ago. Positioned at "the cultural crossroads of Salt Spring Island: the meeting place of both old and new broadcasters from every walk of island life," the station offered a variety of music, talk and spiritual shows put together by interested members of the community.
Station manager Dave Gordon was just one of the people who was surprised by news of the sale. As of Monday morning he had yet to speak to either Brooks or Dhillon about their plans.
"I'm just as anxious to hear as everyone else," Gordon said.
"I'm here manning the fort and I don't even know if I'm still on the payroll."
Although rumour had it Brooks had only started the business to fulfill an immigration requirement, he said that isn't true. His main reason for selling was a feeling it was time for a change, especially since his youngest daughter will be graduating from high school this year.
"I busted my ass for six years and I think it's time to move on," he said.
As to why he didn't offer the station to the local market before seeking outside offers, Brooks said that didn't appear to be an option.
"This community tried for 10 years to a get a community radio station . . . they didn't do it," he said.
Brooks said despite his passion for radio, the community will be better off with Dhillon.
"He's a professional broadcaster that has a love of community itself. I'm a radio wannabe — he's a radio professional."
Dhillon, who is president of Radio Punjab, confirmed he will keep CFSI's format as-is after he takes ownership on March 1.
"I'm going to be keeping it the same. We have no plans to change anything," he said.
More information on the exact programming is expected to be known after a meeting with Brooks and the volunteers scheduled for Tuesday night.
Volunteer involvement has been important at Dhillon's other media outlets. He said many people working in Vancouver's South Asian media community got a start at his station.
"We're proud that these volunteers have learned their trade with us and now have successful careers," he said.
Dhillon also said the station could boost island tourism under his guidance, and noted the number of South Asian businesses has grown in Wetaskiwin, Alta. where he runs a station that has 24-hour programming in classic country, country gospel and world music.
Events celebrating the transfer are potentially planned for April when the weather improves.
Renowned Environmentalist McKibben Takes Aim At Fossil
Fuel Industry
GISS student government reps James Twaites and Eva lynyk meet with world-renowned environmentalist and author Bill McKibben after his talk at GISS on Tuesday afternoon. Photo by Sean McIntyre
By Sean McIntyre - Gulf Islands Driftwood Published: March 28, 2012
When American Bill McKibben released the End of Nature in 1989, he introduced the idea of global warming and climate change to a general audience. Nearly 25 years later, the author, teacher, activist and environmentalist wonders why it is taking so long for governments to catch on.
McKibben told an audience of about 400 at Gulf Islands Secondary School on Tuesday that back in 1989, the luxuries of time and hope offered cause to believe a global consensus could be reached.
These days, things are not so bright.
"One of my roles in the world is to be a professional bummer-outer of people," he told the crowd.
During the past 40 years, McKibben said, the world has become an entirely different beast — Eaarth, the title of his latest book, is a reference to this strange new world.
It's a world, he told the crowd, where the Arctic has 40 per cent less ice cover and the oceans are 30 per cent more acidic compared to only 40 years ago. It's a place where increased heat and moisture in the planet's atmosphere has "loaded the dice for drought and flood."
During that time, he added, emission rates of carbon dioxide and other greenhouse gases have continued to rise.
Be it record-breaking heat across the Russian steppe or flooding in the Thai capital, McKibben says the prevalence of significant weather events around the globe is a clue that the planet's weather is experiencing serious change.
"This is the biggest thing human beings have ever done and we have to stop it. The planet is starting come unglued because we are raising the temperature," he said. "I do not know if we will win, but I do know that it will be an honour to stand shoulder to shoulder for as long as we can."
Although climate change has become part of the general discourse, some things have not changed since the late '80s, notably the major hurdles which prevent change.
"We have had a pretty good idea about how to deal with these problems for a very long time. At this point it's pretty clear the biggest reason is the incredible power of the fossil fuel industry," he said.
"What we lack is not so much the technology but the political will to put that technology in action."
While McKibben has grown accustomed to being that guy at the party who always shares the bad news and dire warnings, he's also built a reputation around the world as someone not ready to give up the fight.
He's convinced it is only through public engagement and civil disobedience that humanity has any chance of success against the fossil fuel industry's slick campaign to stick with the status quo until oil reserves are fully tapped.
In 2011, McKibben and seven students from Vermont's Middlebury College launched the www.350.org campaign, an effort that became a global day of action for 5,100 people in 181 countries, including many enthusiastic Salt Spring residents.
"There's no place in the whole world that's been a more faithful part of this 350.org work than we've been doing than this island," he said.
The group continues to sponsor leadership workshops, leads protest campaigns against fossil fuel expansion and has a major May 5 event organized by groups around the world to show how climate change has already affected communities.
So long as something is being done, McKibben figures, there's still reason to not get bummed out.
Salt Springer Murdered In Mexico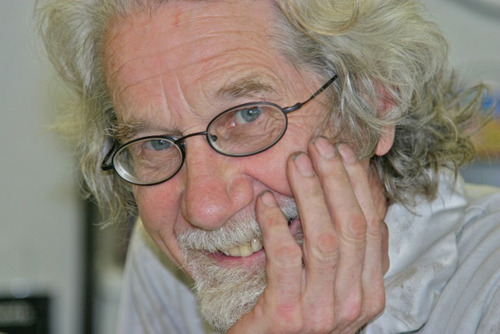 By Sean McIntyre - Gulf Islands Driftwood
Published: January 03, 2012
Condolence messages began pouring onto Robin Wood's Facebook page on Tuesday morning, fewer than 12 hours after the Salt Spring Island resident was shot and killed during a home invasion in the resort town of Melaque on Mexico's Pacific coast.
Arvid Chalmers, an island-based realtor who winters in the coastal town, confirmed Wood died before getting transported to hospital.
"Unfortunately it is true," Chalmers wrote in a brief email from Mexico on Tuesday afternoon. "We had a home invasion last night by two robbers, one of whom had a pistol. Robin got involved and was shot as a result."
Although Chalmers called police when thieves left the home, emergency personnel could not reach the nearest major hospital, located approximately 20 kilometres away, before his friend passed away.
"The robbers left and I called the police. However we did not get to Cihautlan in time," Chalmers wrote.
Wood, 68, was a well-known Salt Springer, former owner of the Beddis Road Garage and mechanic at the old Payless Gas station on Rainbow Road.
Chalmers said he is physically fine but heartbroken as a result of the incident. He did not provide any more details about the incident or offer a possible motive for the robbery.
Fellow Salt Spring resident Rick Neufeld arrived in Melaque on Tuesday morning.
"We are mostly walking zombies trying to process how unfair, how absurd [it is] that this should happen to good people," he wrote in an email.
He said details of the incident are still speculative.
"My heart breaks, my tears fall for my dear brother Robin," writes Sharon Tolagson on Wood's Facebook site. "So needless, so very loved. Sending hugs to all the sad loved ones on Salt Spring right now."
Anna Hughes, a Gulf Islands Secondary School graduate who lives in Victoria, wrote "thinking of you Robin and your smiling face always, many thoughts out to family and friends. So sorry to hear this news, your kindness is forever in my heart."
Melaque is a favorite haunt for many Salt Springers who seek reprieve from the winter blahs. The small coastal town of fewer than 12,000 people is located approximately 200 kilometres south of Puerto Vallarta and is reported to host relatively few acts of violent crime.
A spokesperson from the Canadian Embassy in Mexico City did not return a request for an interview before the Driftwood's Tuesday afternoon deadline.
Our Island, Our Government - Taking A Look Beyond Our Shores
By Sean McIntyre - Gulf Islands Driftwood
Published: August 31, 2011
Ever since he was old enough to vote, Dumont can recall casting a ballot for any candidates who shared his vision to incorporate Sooke as an official municipality.
Now in his 70s, Dumont figures he's voted in about four or five referendums on the subject, only to see his hopes dashed each time the votes were tallied.
All that changed in 1999, when a majority of voters elected to incorporate the thriving community of just under 10,000.
Dumont's passion for the cause encouraged him to become a career politician. He served as a director on the Capital Regional District board during the 1970s and on the community's incorporation study committee in the 1990s. After spending most of the past decade on Sooke's municipal council, he's finally decided to call it quits for politics at the end of this year.
During an interview earlier this summer, Dumont recalled how it was the region's business community that mounted vociferous opposition to incorporation's potential impact on tax rates.
In a rapidly growing community with a high demand for a wider range of municipal services like arenas, traffic infrastructure and playgrounds, Dumont said, rising taxes were already on the horizon, regardless of how the referendum played out.
"The taxes weren't any lower with the regional district so [people in the business community] fought heavily, but they would have been better off incorporating sooner."
As shown in last week's Our Island, Our Government segment, the Ministry of Community, Sport and Cultural Development has established higher post-incorporation taxes as one of the biggest detriments to the incorporation option.
Unlike big-spending communities like Sooke, however, plenty of smaller municipalities across the province that have incorporated without feeling the pinch.
In Lake Country, a community of nearly 10,000 residents about 25 kilometres north of Kelowna, a spirit of fiscal prudence has characterized local politics since the region incorporated in 1995.
Since Lake Country voters chose to incorporate, tax rates have remained reasonably consistent with estimates made during the community's incorporation study, according to Alberto De Feo, the community's chief administrative officer.
"Taxes and fees increase due to the level of service citizens require, not due to incorporation," he said. "You can still incorporate and decide to keep the same level of service you already have with no or minimal tax or fee increases. If you wish to have more and the municipality is required by the taxpayer to provide the service, the cost will have to be borne by the taxpayers and usually comes through a tax or fee increase."
Furthermore, De Feo added, because decisions made before the community incorporated involved "heavy representation from the City of Kelowna," a significant portion of the revenue from Lake Country taxpayers was spent on projects outside their community.
"Now decisions are made within and for the community," he said.
About 25 kilometres east of Sooke, near the rapidly sprawling Victoria suburbs of Langford, Colwood and Goldstream, the mayor and council elected to represent the District of Metchosin have made a conscious decision to manage their town on a rural model ever since the community incorporated in 1984.
What Metchosin has become is a community that hasn't followed the development-at-all-costs model eagerly adopted by neighbouring municipalities in recent decades.
Mayor John Ranns, who campaigned against incorporation during the early '80s, said his community probably wouldn't be what it is today if it hadn't been for the change.
"We were very lucky that the first council was completely dedicated to building the foundation for a rural community and we have a population that made sure that every council that got elected was committed to maintaining that principle," Ranns said.
"When [council members] did try to sway, they got hammered."
As an anti-incorporationist, Ranns was concerned about a bulging bureaucracy and a potential threat to his hometown's rural charm. Oddly enough, those were the same reasons given by many of the people who supported the move to incorporate, he said.
Nearly 30 years after incorporation, with a largely part-time staff and all senior positions contracted externally, Metchosin's bare-bones administration and financial restraint have made it one of the few municipalities in the province that isn't in debt.
During the early 2000s, when councillors of the day went on a staff hiring spree, the municipal budget reached new heights. Electors voted in a new set of councillors and, within months, staff were dismissed and costs brought back to reasonable levels.
Today, the district proudly operates out of a small office commonly referred to as the "virtual city hall."
When people come around and ask for various amenities or services, he said, they're told flat out that it's not within the budget. Even if it were, sidewalks, splash parks and recreation centres aren't the kind of thing called for in the community's official community plan.
In Metchosin, that OCP stands like a constitution for citizens, councillors, staff, developers and people moving into the area. The 15-year-old document is legally defensible and considered the most important tool for preserving the rural municipality's distinct character.
"We've always identified ourselves as something different, as a rural community," said Ranns. "We don't have to be like everyone else."
He said that philosophy has had the added benefit of promoting civic engagement and maintaining a strong core of volunteers to serve on committees or maintain parks.
Fiscal restraint has meant residential taxpayers, who comprise about 90 per cent of the district's tax base, have transitioned to a municipality without the anticipated tax hikes.
Metchosin's "sensible approach to zoning" and a "philosophically minded OCP," had even encouraged residents to the west in Otter Point/Shirley to explore joining them rather than end up being amalgamated into the District of Sooke.
The Otter Point/Shirley government restructure study, it turns out, was the final report commissioned by the province before the last batch of funds for such reports dried up — just when Salt Spring officials were making a restructure study request two years ago.
But the boundary-adjustment concept was shelved after Metchosin's elected officials said they weren't interested in expanding their community's area by taking on Otter Point and Shirley.
In Barriere, a town of just under 3,500 residents that's about a 45-minute drive north of Kamloops, the opportunity for greater control of local tax rates is complemented by the district's newfound ability to access federal and provincial grants made available only to incorporated districts.
"When you consider that our total tax from all our taxpayers is just over half a million and the remainder of our $1.5-million budget is made up from the government's small community grant, we have done very well," said mayor Mike Fennell,
"We have received more money in grants in the last three years than in the last 30 years."
The power to "control our own destiny," Fennell said, has made it possible for councillors to rebuild the town into a sustainable community based on green-energy sources like wind, solar and run-of-river projects.
"We are also thinking of starting our own energy co-op and creating a sustainable form of income for the district so that we don't rely just on taxes to survive," he said. "We are also pushing economic development and encouraging business and industry to locate here."
"I want our young people to be able to stay in the area and have the opportunity to have a career here, ply their profession here or at least get a decent-paying job here," Fennell added.
The town has 11 employees responsible for office administration, finances, water, sewer and solid waste system maintenance, and parks and recreation.
"Any extra work is contracted out or handled by day labour on a case-by-case basis."
Fennell said the decision to contract out building-inspection and planning services, previously handled by the Thompson-Nicola Regional District, has resulted in lower costs as well as more flexible and frequent service.
"I guess our administration fees may cost slightly more, but I think it is worth it, and so do the local contractors and most of our citizens," he said.
It took two referendums before Barriere residents voted to incorporate and the final decision snuck past by only eight votes in June of 2007.
Fennell is confident residents' experiences during the past four years would result in a larger margin of victory if a vote were held today.
"All of this is a lot of work and frustration, but I wouldn't change it one bit," he said. "It is such an honour to be the first mayor of Barriere, to help build a community from the ground up and create a place where people really want to live and play and work."
INCORPORATION BY THE NUMBERS
Even if Salt Springers were to shelve plans for traffic circles, cycling lanes, a new fire hall, or whatever other amenities islanders can imagine, research conducted prior to the 2002 referendum showed that incorporation comes at a definite cost.
Whether or not taxes would increase more than they did in the last 10 years under our current rural system, however, would ultimately have depended on the decisions of our island's elected councillors and mayor.
British Columbia's taxation system operates under a variable mill rate system. Every jurisdiction's local government sets a mill rate for residential, commercial, industrial and six other "classes" of property. The mill rate is the amount a property owner must pay per $1,000 of their property's assessed value.
Municipalities like Metchosin, with little infrastructure and few recreational amenities of their own, end up with a relatively low mill rate when compared to communities such as Lake Country, which boasts a 266-seat theatre, arena, curling rink and nearly 200 kilometres of roads.
Another factor to consider when looking at mill rates is property values. Places like Bowen Island with high property values can still collect sufficient revenues with a relatively lower mill rate.
Back in 2002, the mill rate for an average Salt Spring Island home, assessed at $245,000, was $7.38. That would have made the total tax rate for the owner of an average-priced island home just over $1,800.
The 2002 SSI Restructure Study Update projected the tax implications of incorporation phased in over an eight-year period to be between $105 to $192 in property tax, or between $13 and $24 per year.
(The difference represents the gap between maintaining an urban road standard like that used in Sooke or opting for a more rural approach such as that used in Metchosin.)
On Salt Spring, where "community life is less shaped by the need for traffic management, rural road standards may not only be more appropriate but also preferred by island residents who want to keep roads narrow and rural where appropriate," according to the 2002 report.
It's likely Salt Spring, with its mix of concentrated commercial areas and rural backroads, would fall somewhere in the middle.
Because projections were made assuming no changes to 2002 service levels (no new pool, library or more fire department staff), it's no surprise the projected 2010 average tax rate of $1,900 to $2,000 falls below what islanders actually ended up paying in 2010 without incorporating — which was $2,835 for an average-assessed property of $550,590. (As an aside, Salt Spring's average property value dropped between 2010 and 2011.)
Given that the projections did include funds for a mayor and six-member municipal council, 9.5 full-time municipal staff members, policing and road maintenance costs, however, the cost of incorporation appeared to be relatively low at the time.
While every community's mill rate is based on a combination of highly localized factors, a mill rate comparison is a useful tool to show Salt Spring homeowners where they rank in relation to residents of other incorporated communities.
A new restructure study, which would be conducted prior to any incorporation referendum, would provide islanders with comprehensive financial information based on the island's current services, amenities and projected needs.
Our Island, Our Government
- New Driftwood Series
By Gail Sjuberg - Gulf Islands Driftwood
Published: August 17, 2011
Incorporation: Time For Another Look
Governance. As a topic of conversation on Salt Spring Island, it's right up there with the weather, ferry service, gardening, lack of affordable housing and parking in Ganges on the perennially hot topic list.
Anyone who's dipped their toes in the subject knows that Salt Spring was once incorporated — between the years 1873 and 1883. The fact that it didn't work has padded the myth of the island as a divided, non-conformist place where standard forms of governance just don't fly.
"The island's first experience with self-government had failed, largely because of the councillors' insensitivity to opposition and the islanders' reluctance to give power to a higher authority, especially over taxation," writes Charles Kahn in his 1998 book Salt Spring: Story of an Island. "Salt Spring has often considered re-incorporating, but islanders' inability to agree has prevented it."
In 2011, as the most populated community in B.C. not governed through a municipal structure, Salt Spring is truly an anomaly. When Salt Spring last looked at the incorporation option, with a provincial government-funded study period from 1999 to 2002, the west side of Kelowna (known as Westbank at the time) held the title as the most populated unincorporated area in B.C. But the Westside District Municipality was created after a 2007 referendum, leaving Salt Spring Island to hold the banner.
Besides likely having seven locally elected officials on a municipal council, rather than only two Islands Trust trustees and an electoral area director to the Capital Regional District, the primary difference between a municipality and Salt Spring's system is simply which bodies take care of what activities.
A municipality is responsible for land-use planning and the services, and for representing the community beyond its boundaries.
On Salt Spring, the Islands Trust handles land-use planning and decisions, while the CRD oversees some services, such as parks and recreation, building inspection, animal control, the library, liquid waste and six of the island's 10 water districts.
The Ministry of Transportation and Infrastructure has subdivision-approving powers and provides both the approval and funds for road improvements and maintenance.
Fire protection is managed by an improvement district. Garbage service is provided by private operators (although their sites are regulated by the CRD). Salt Spring Community Services provides recycling services through a contract let by the CRD.
That more than 10,000 people and 180 square kilometres can be governed by such a decentralized patchwork of bodies has been a source of pride in some circles. The availability of a pool of expertise that can be tapped into on a volunteer basis is undoubtedly why it works as well as it does.
But in recent years, as property tax levels have continued to escalate — my gross tax bill was $1,502 in 2003; this year it was $2,467, for example — more islanders have started to ask what they get for all of that money and who makes the decisions about how it will be spent when there's no single body maintaining an island-wide priority list. Add in the economic challenges of the past few years, questions about whether the Islands Trust veers outside of its jurisdiction for lack of another available agency and about whether the Victoria-based CRD is the best body to keep taking on more responsibility for island services and it becomes clear that the status quo is not beyond questioning — yet again.
In this, the first of a series that looks at the incorporation option, we review the history of island governance studies and votes, with an emphasis on the 2002 referendum that failed.
We've been a studious bunch
Ten years ago, Salt Spring Islanders Peter Lake and Wayne Fraser were engrossed in work as members of the Salt Spring Island Local Government Restructure Committee — just one of the volunteer activities they were involved in at the time.
Lake joined the committee that looked into incorporation aided by Tom Reid of Sussex Consultants Ltd. at the request of Salt Spring's then-CRD director Kellie Booth, who had appreciated his volunteer work for the community on dock divestiture issues.
"At the time I thought incorporation would probably encourage developers to rape the island and I wanted to be on the committee to prevent that," he said in a recent trek down memory lane with the Driftwood.
When the committee was appointed in 1999, Fraser had been a Parks and Recreation Commissioner for four years, and served on the Island Arts Centre Society board as it went through various contortions trying to build ArtSpring through the 1990s.
He came to the restructure committee with a different view from his colleague.
"I was already taken aback by the disarray of the way things are done here," he said, and felt some other form of local government system must be better than what existed.
Also appointed to the committee by Booth and then-trustees Bev Byron and David Borrowman were David Wood (chair), Judy Norget (vice-chair), Marc Holmes, Richard Kerr, Gundy McLeod, Bob Rush, Chris Schmah, Rod Scotvold, Li Read and Bob Watson. Based on what it learned in the process guided by Sussex consultant Reid, plus public feedback, the committee recommended to the provincial government that an incorporation referendum be held. A June 22, 2002 date was approved.
While the committee was officially a neutral body, as the referendum date drew nearer the committee became alarmed by the usual Salt Spring misinformation flying around any campaign and addressed that in a full-page Driftwood ad. Lake also resigned from the committee so he could freely speak his mind.
Lake recalled that while "the facts swayed everybody on the restructure committee that incorporation was the way to go," Fraser adds that the committee was not an advocacy group. Not everyone was strongly in favour of incorporation, especially because of uncertainty arising from new Community Charter legislation proposed by the province at the time. But it wasn't even the Community Charter legislation that created the most uncertainty, said Fraser, recalling an action by the Islands Trust that still gets him riled up. He refers to a document titled Sustainable Island Governance - Exploring New Directions for the Islands Trust Area, which was released on May 24, 2002, one month before the Salt Spring incorporation referendum.
It proposed asking the provincial government for legislative changes that would "assign local government authority to the Islands Trust, consolidate local services through the Islands Trust and provide a continuum of local governance options to island communities."
Although nothing concrete came of the proposal, suddenly Salt Spring voters — and especially those who were concerned that incorporation could reduce the Trust's role in island governance — were enticed by the promise of another possible governance option.
George Abbott, who was the Minister of Community, Aboriginal and Women's Services at the time, jumped in to stress in a June 10, 2002 letter that he had advised the Islands Trust that he would consider no changes to the Islands Trust until the second phase of the Community Charter initiative and that "regardless of possible future changes for either regional districts or the Islands Trust, those changes should not be viewed as an alternative to municipal incorporation . . . ."
But the option of giving more power to the Islands Trust had already caught hold.
Lake and Fraser also recall the effect of Bowen Island mayor Lisa Barrett showing up at a Fulford Hall meeting, warning islanders to not go the incorporation route as her island had done three years earlier.
Barrett said, "I look at you thinking, 'what a bunch of odd and creative people' — can't you come up with something better than a plain old municipality?"
Despite countering information presented by Bowen councillors Peter Frinton and Ross Carter, and Sooke mayor Ed Macgregor, any hope of a successful referendum seemed to escape through the rafters at the hall that night.
"The biggest disappointment to me was that it was the most complete [incorporation] study ever done and it was never debated on its merits," said Lake.
Some $10 million in transition funding from the province that the committee had negotiated was also lost when the referendum failed.
The provincial government had also funded a Local Government Options Study, which issued its final report in 1993.
Borrowman chaired the governance options committee that came up with six options to explore. He recalls the process "generated significant interest in one option — incorporation."
Borrowman also agreed to request an incorporation study after he came to office in the fall of 1996, along with Byron and Booth. However, by the time Salt Spring was headed for the 2002 referendum, Borrowman's view had shifted.
Last week he said his opposition to incorporation was and still is based on "[preserving] the unique character of the island with its unique form of government, and the likely costs of incorporation. Typically, incorporation shifts the centre of local government activity towards the endless work of financing a community, and, in our case, away from the preserve and protect mandate."
For Booth, the island's CRD director from 1996 to 2002, incorporation was and still is the obvious better choice.
"In my opinion, the facts gleaned from the 2002 restructure study were clear. Incorporation of an island municipality would solve the costly 'a la carte' way in which Salt Spring is stumbling forward. The need for one governing body with the legal authority to look at the majority of island issues together is long overdue.
"The ability to formulate a budget from taxpayer dollars in a council forum, open to the public with all needs for consideration on one table, is critical for our community to evolve in a healthy, cost-effective, well-balanced manner."
How Long Have We Been Talking About This?
A list of past studies, votes & agreements
1967 — Ganges-area voters reject a proposal to incorporate the village by a 109 to 91 vote. Incorporation was viewed as a way to get a sewer system for Ganges.
1984 — Feasibility of SSI incorporation explored in a study but decision made to not proceed.
1986 — Ganges Incorporation Study Committee struck to explore feasibility of incorporating Ganges as a village municipality. Pursuit of the idea was abandoned in 1989.
1991 — SSI Local Government Committee formed to look "at options and opportunities for change" in local government structure.
1993 — SSI Local Government Committee produces its final report, recommending a Phase II study to explore both the island municipality and one other option.
1993 — Salt Spring CRD director Julia Atkins creates paper for Ministry of Municipal Affairs titled SSI Local Government Study Stage II.
1994 — SSI Residents Against Waste and Inefficiency in Government issue report called Time to Take Charge — Making SSI a Healthy Community.
1995 — Islands Trust Council and Ministry of Municipal Affairs agree on how municipalities would function within the Islands Trust Area.
1998 — Salt Spring receives Municipal Affairs funding for a Salt Spring incorporation feasibility study. Committee appointed in 1999.
2001 — SSI Local Government Restructure Study released, with update in May of 2002.
2002 — Incorporation referendum fails with 70 per cent voting "no." Voter turn-out is just under 50 per cent.
2005 — Trustees Eric Booth and Kimberly Lineger, and CRD director Gary Holman issue a report called Improving Governance on Salt Spring Island.
2008 — Islands Trust referendum to increase Salt Spring Local Trust Committee size to four trustees from two fails with 65 per cent voting against it, with voter turn-out of about 40 per cent.
2009 — Trustees Christine Torgrimson and George Ehring, and CRD director Garth Hendren are advised by the Ministry of Community Development that it will not support a governance study for Salt Spring — either in concept or with funding.
---
Elizabeth May Takes
Seat In Parliament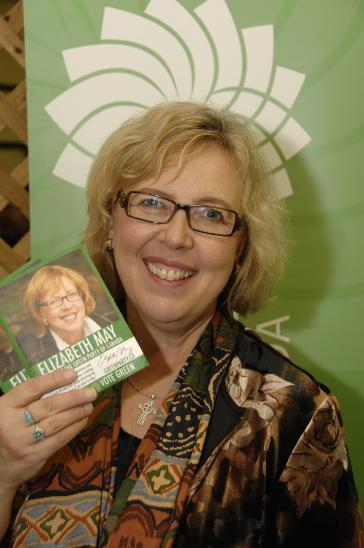 Driftwood file photo by Derrick Lundy

By Sean McIntyre - Gulf Islands Driftwood
Published: June 08, 2011

Newly elected Saanich-Gulf Islands MP Elizabeth May is confident she can still effectively represent the interests of Saanich-Gulf Islands in a Conservative-majority Parliament.
May's win in last month's federal election brought a close to the 14-year reign of former Conservative MP Gary Lunn, a fact that's stirred grumbles from those who feel islanders' concerns will be left to cool on the back benches.
"I am very sensitive to that criticism," May said in an interview from Ottawa on Tuesday morning.
In her defence, the Green Party of Canada leader points to the new federal budget's dearth of financial treats for Saanich-Gulf Islands residents. Given that the latest budget is 99 per cent similar to the Conservative's pre-election budget drafted while Lunn was in power, May questions if the concerns of Saanich-Gulf Islands residents were ever really at the forefront.
"This is the same budget we would have had if Gary Lunn was in power," she said.
Moments before heading back into Parliament to discuss the budget, May laid into the document in earnest, calling it "silly and trivial."
The promise of deep cuts intended to balance the budget and eliminate the deficit within four years, she added, has sent a palpable shiver of fear through Ottawa's civil service.
"There are a lot of people who are very nervous," she said.
At the same time, the budget includes $5 million to celebrate the Calgary Stampede, another $5 million for the Canadian Football League's 100th Anniversary Grey Cup in 2012 and a new office of religious freedoms in the Department of Foreign Affairs and International Trade.
"There are many things that add up to a lot of new spending," she said.
At the same time, cuts are expected to eliminate the per-vote subsidy, a program put in place nearly two decades ago to harness the influence of campaign donations made by influential trade unions and powerful corporations.
It may be small change at the federal level but, May said, modest amounts scattered over superficial projects throughout the budget quickly pile up to major dollars and place other long-standing government programs in jeopardy.
"We can cut fat but we need to make sure we don't cut into bone," she said.
Speaking up in Parliament to ensure cuts aren't relegated to back room discussions with little or no debate, May added, is among the most effective strategies she can use to defend the interests of all Saanich-Gulf Islands residents, including the nearly 54 per cent of voters who didn't vote Green.
After two weeks in Ottawa, May returns to the riding later in the week. She will participate in the Gulf Islands Secondary School graduation ceremony on Saturday afternoon.

Poll-By-Poll Results
Show Green Tide
By Staff Writer - Gulf Islands Driftwood
Published: May 11, 2011
Which part of the Gulf Islands was the greenest of them all when it came to voting in the May 2 federal election?
Fulford Harbour, of course.
Of those casting ballots at Fulford Hall on election day, 76.8 per cent chose Green party candidate Elizabeth May. The next highest areas for May were Long Harbour at 72.5 per cent, and the busy Salt Spring advance poll, where 71.5 per cent of 1,131 votes went to May.
Conservative incumbent Gary Lunn garnered the highest percentage of Gulf Islands votes at two Pender Island polls on May 2 at 27.2 per cent, with Mayne Island close behind at 27.
See the accompanying table for more local results.
A student vote taken at Gulf Islands Secondary School was overwhelmingly supportive of the Green party, with 108 of 142 eligible votes cast for May (or 76.1 per cent), 18 for NDP candidate Edith Loring-Kuhanga (12.7 per cent), eight for Lunn (5.6 per cent) and two for Liberal Renée Hetherington (1.4 per cent).
Final vote numbers for the Saanich-Gulf Islands riding were May, 31,890 (46.3 per cent); Lunn, 24,544 (35.7 per cent); Loring-Kuhanga, 8,185 (11.9 per cent); Hetherington, 4,208 (6.1 per cent).
A total of 160 ballots were rejected.
Voter turn-out was 75.2 per cent, the highest in the country. Cross-Canada voter-turnout was 61.4 per cent.
Final seat results were 167 for the Conservatives, 102 for the NDP, 34 for the LIberals and one for the Greens.
May Clinches Historic Victory
A crowd at Moby's Pub — Salt Spring's gathering spot for Elizabeth May supporters on election night — cheers as the results come in and May is elected in the Saanich-Gulf Islands riding.
Photo by Derrick Lundy
Gulf Islands Driftwood
Published: May 02, 2011

By SEAN MCINTYRE
Green Party of Canada leader Elizabeth May's overwhelming election victory in Saanich-Gulf Islands turned anxiety into elation for nearly 200 party faithful who crammed into a Salt Spring pub to watch Monday night's federal election.
"We did great. We made history," said Tom Mitchell, the man in charge of the Green party's Salt Spring campaign, soon after May's victory was confirmed at about 8:30 p.m. "It's been a real pleasure working with everyone.
"This is just the beginning."
Jubilation broke out as patrons watched May deliver her victory speech on television screens and laptops at Moby's Pub in Ganges.
"I just received a phone call from a very boisterous bar on Salt Spring Island," May said during her victory speech broadcast on CBC television.
"Today we proved that Canadians want change in politics," she said.
"I remain committed as I've been throughout this campaign, as all of us are, to rejecting the politics of cynicism and fear, to embracing hope and bringing respect back to the House of Commons," May told a crowd of supporters gathered in an airport hangar in Sidney. "I will never shrink from speaking truth to power, nor will I embrace the politics of spin. We need hope over fear, we need compassion over competition, we need to recognize that Canadians deserve a Parliament where 308 MPs figure out how to work together."
Many of the island's Green party supporters at Monday's event said they had expected a closer vote that would be decided much later in the evening.
May, who spent most of the six-week election campaign in the riding at the expense of her party's national hopes, took an early lead and never looked back. She is the first Green party MP to ever be elected at the federal level in North America.
As of Tuesday afternoon, preliminary results supplied by Elections Canada showed that May received 46.3 per cent of votes cast in the riding. May earned 31,900 votes, roughly 7,300 more than incumbent Gary Lunn of the Conservative Party of Canada. Lunn finished the evening with just under 36 per cent of the vote.
The NDP's Edith Loring-Kuhanga was in third sport with nearly 12 per cent of the vote while the Liberal's Renée Hetherington finished in fourth position with six per cent of the riding's votes.
Slightly more than 75 per cent of registered voters in the riding cast a ballot, giving Saanich-Gulf Islands among the highest levels of voter participation in the country. The national turnout was 61.4 per cent, a few percentage points higher than the record-low 58.8 per cent of voters who participated in the 2008 federal election.
The loss ended Conservative party candidate Gary Lunn's 14-years as a Saanich-Gulf Islands MP.
Following news of his defeat, Lunn spoke with pride about the 167 seats his party managed to win across the nation.
"You gotta love what happened tonight, you really do," Lunn said. "This is a great day for Canada."
"We've had so many volunteers here and I know each and every one of you were here for the big picture as I was . . . We're here to fight for our values, our principles."
The nation spoke out, he said.
"Canada gave our prime minister . . . a very, very strong mandate to govern this country for the next four years."
"As much as we would have loved to be part of that in Saanich-Gulf Islands . . . we did a great job, we can hold our heads proud. We delivered our votes."
He congratulated May for leading a strong and well-organized campaign.
Stephen Harper`s Conservative party earned 167 seats for a majority government. Jack Layton and the NDP form the official opposition with a record-breaking 102 seats across the country. The Liberals' presence was reduced to 34 seats while the Bloc Quebecois was left with a mere four seats.
As a percentage of the overall national turnout, the Conservatives earned 39.6 per cent, the NDP received 30.6 per cent, the Liberals garnered 18.9 per cent, the Bloc Quebecois got six per cent and the Greens captured 3.9 per cent.

Saanich-Gulf Islands
Candidates Make Their
Mark At Youthful Debate
By Sean McIntyre - Gulf Islands Driftwood
Published: April 22, 2011
Candidates vying for votes in the Saanich-Gulf Islands riding gathered before an audience of several hundred people at the Gulf Islands Secondary School gymnasium on Thursday afternoon as part of Salt Spring's lone all-candidates debate ahead of the May 2 federal election.
Incumbent Conservative party candidate Gary Lunn incited a chorus of disapproval when he announced early on that he would have to leave for another engagement 90 minutes into the two-and-a-half-hour event.
"I've made a point to attend these meeting in all of my elections and I haven't missed one in this campaign. I think I'm doing 12 this time," he said.
Lunn, who's represented the riding for 14 years, was repeatedly forced by audience questions to defend his party's record on climate change, along with his role in the firing of Linda Keen, former president of the Canadian Nuclear Safety Commission.
In a break with tradition, Thursday's all-candidates event was held at the high school to expose more youth to the political process. Candidates fielded questions on everything from classic campaign topics like healthcare and education to the legalization of marijuana and mandatory product labelling of food products that contain genetically modified ingredients.
A number of young adults joined the long lines of people asking questions of the candidates.
"I think it's great to see the turnout here today and I think it's great to see the students. I'm always heartened to see young people in the room," said Lunn.
Moderator David Wood noted a distinctly reduced amount of grey hair at this year's meeting.
Green party leader Elizabeth May appeared to galvanize much of the crowd's support by mixing her party's platform with the prospect of having the country's first Green party MP elected in Saanich-Gulf Islands.
"I was quite sure I was never going into politics and then the election of 2005-2006 occurred and I saw there was no discussion of climate, no discussion of Afghanistan and no call for peace and that's why I decided to join the party in a run for leadership and that's why I am before you today," she said.
Edith Loring-Kuhanga, the riding's NDP candidate defended her decision to run in spite of a call for her and the Liberal party candidate to withdraw from the competition to avoid a vote split that could facilitate a Conservative party victory.
"As a First Nations woman, I have every right to stand up here and represent not only my people but everybody else. I believe that the environment runs through my blood and the good thing about the New Democrats is that it's combined with social justice."
Liberal candidate Renée Hetherington took aim at Lunn and the Conservative party for its record on environmental issues and social justice issues while, at the same time, making a point that she and the Liberal party have the team to enact some serious change in Ottawa.
"I am not a lawyer. I am not a politician. I am just a person, a person who cares," she said. "But this election is not about me, it's not about the people at this table, it's about you, it's about your future. Your well-being is at risk because our democracy, our economy and our environment is at risk.
"It's time to take our country back."
The candidates also faced off at a debate at the Mary Winspear Centre in Sidney on Thursday night.
Salt Spring Island One Of
Ten Best Places To Live
By Elizabeth Nolan - Gulf Islands Driftwood
Published: January 26, 2011
Salt Spring Island is one of the 10 best places to live in the West, according to a recent article published in Sunset Magazine.
The unranked list names the communities that will make people the happiest to live in, each with a unique attribute that is celebrated. Salt Spring is the only Canadian location to make the cut, based on residents' ability to "grow your own everything."
Island gardeners betrayed no surprise at the news. The early location of market gardens that once fed much of British Columbia's settler population, the area is still famed today for its oft-mentioned "Mediterranean-like" climate.
Dan Jason, a founder of the Seed and Plant Sanctuary for Canada and owner of Salt Spring Seeds, explained: "Gardening has always been one of Canada's most popular hobbies, but many people are switching now from growing flowers to growing food."
Residents Rally Against
Islands Trust
Please join me for "Sounds Like Salt Spring" on Sunday, July 4
at 4 PM when my guest will be Tea Leaf Reader Tanya Lester and
at 5 PM Larry Pierce of The Gulf Islands Citizens Council and Kimberley Linegar of Islanders For Self-Government, direct from
the Sunday rally.
Including an exclusive interview with Senator Larry Campbell...
By Sean McIntyre - Gulf Islands Driftwood
Published: July 06, 2010
Frustration and discontent rolled into Centennial Park on Sunday afternoon as hundreds of residents from throughout the Islands Trust's jurisdiction called for a change to the way they are governed.
"We only ask for common sense to be used during the development of our community," said Kimberly Lineger, a former Salt Spring trustee and one of the main organizers of Sunday's event.
"We do not want the communities of retirees, of wealthy weekenders or summer people. We want a diverse and varied rural community with resource workers, contractors, police and firemen and women and school teachers and store clerks and, above all, young families and children, but unless you're rich or have owned property here for decades, the young and the middle class cannot afford to live here.
"Our communities are dying on the vine."
Lineger said she believes improved local governance would facilitate the accommodation of growth without sacrificing the "small, quaint and rural" lifestyle that has attracted so many to the islands.
"Islanders for Self-Government are not against the environment," she said.
A parade of heavy equipment that included a septic truck, front-end loader, tractor and dump truck heralded the opening of Sunday's rally with a raucous blockade in the heart of Ganges.
The festive antics continued throughout the afternoon as emcee Arvid Chalmers entertained alongside "the Queen," as portrayed by Reid Collins, and O Canada was sung by a large gorilla.
The two-hour event, dubbed the "coffee party," culminated with the launching of burlap sacs and boxes marked with the Salt Spring Coffee Co. logo into Ganges Harbour from the Centennial Park boardwalk.
Salt Spring Coffee Co. president and owner Mickey McLeod, who recently announced that his company will relocate its administrative offices and manufacturing facility to an as-of-yet undetermined site in the Vancouver area, spoke to a need for change.
McLeod's announcement followed the Salt Spring Local Trust Committee's August 2009 rejection of his company's application to rezone a Fulford-Ganges Road property.
A failure to change, said Hornby Island's Larry Pierce, is why so many Gulf Islands are becoming the exclusive domain of the wealthy at the expense of young families and middle class.
"This has become a Gucci zone," Pierce said.
Pierce has spent the last month circulating a petition that calls on the province to initiate of review of the 36-year-old Islands Trust Act. As of Monday, he said he'd collected more than 1,000 signatures, 200 of which came during Sunday's event.
He seeks signatures from 10 per cent of the roughly 25,000 people who live within the Trust's boundaries by the end of the summer.
"The Islands Trust is out of date. The model is broken," he said. "People need fair, honest representation. They need equal representation, we need local government and we don't need any more control and selective bylaw enforcement.
"We live in Canada. It's a free country. Sign the petition."
Senator Larry Campbell, a resident of Galiano Island and a former mayor of Vancouver, spoke of the need to reinvigorate the democratic process throughout the Gulf Islands.
Harnessing the energy expressed by so many at Sunday's event, he said, is crucial to the movement's success.
"If we remain silent then we've accepted the status quo," Campbell told the crowd. "If we don't get involved then we get exactly what we deserve and, as I said in Vancouver, if you don't vote, don't bitch to me."
Campbell said it's time all islands in the Trust area become incorporated to ensure local residents have the ultimate say over what takes place in their communities.
"I believe that every single island should be in charge of their local affairs, their local planning and their local development," he said. "The Islands Trust could be the overseer . . . I don't want somebody from Salt Spring telling people on Galiano what they should be doing."
The Gulf Islands Alliance, a pro-Trust organization with membership spread throughout the Trust area, wasted no time formulating a response to Sunday's event.
In a June 29 press release, GIA chair Misty MacDuffee said Trust Council and individual local Trust committees are publicly elected bodies, voted into office by island residents.
MacDuffee doesn't oppose a review of the Islands Trust Act and said a legitimate review could strengthen the Act by giving the Trust more tools and resources to achieve its mandate.
"The petitioners seem to have forgotten that the Islands Trust region is not a place for business-as-usual growth and development. The unique Islands Trust Act was put in place specifically to protect the ecological and rural value of this region and to constrain rampant development. That is ultimately what this petition appears to be objecting to," MacDuffee said.
---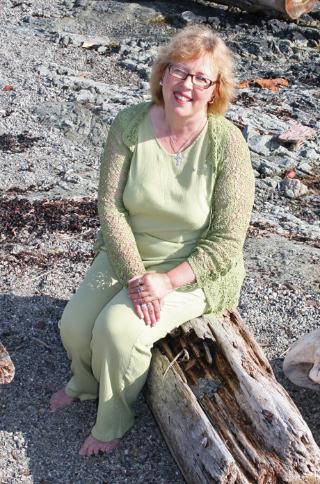 Islanders greet federal Green leader
By Sean McIntyre -
Gulf Islands Driftwood
Published: October 14/09
It was farewell to Nova Scotia and hello Gulf Islands as Green party leader Elizabeth May offered Salt Spring Islanders an election-style speech at Mahon Hall on Thursday evening.
"This time, wouldn't it be exciting to cast a vote that changed the history of Canadian politics?" May asked an enthusiastic crowd of about 150 people. "What we have to do is make the case to our friends and neighbours that there is only one candidate in the race that has [Conservative party MP] Gary Lunn worried right now — and it's me."
The Thursday evening fundraiser marked May's first official function on Salt Spring since she confirmed her intention to run as a candidate in the Saanich-Gulf Islands riding last month.
May's rhetoric made clear that she and her party are already gearing up for the quest to make her the country's first Green member of parliament.
She said her party is prepared to launch a major campaign that will place an unprecedented emphasis on the riding whenever an election is called.
"We are going to run the first really major campaign that's effective and well organized to defeat the current MP," May said. "It's not personal. I'm sure Gary Lunn is lovely, but his decisions and his record condemn him and he doesn't deserve to be in the House of Commons."
May specifically criticized Lunn's 2008 decision to fire the head of Canada's nuclear safety watchdog.
"Every form of health and safety regulation in this country was weakened [when he made that decision]," she said.
During the two-hour event emceed by island folk musician Valdy, May touched on topics that included climate change, deficit spending, aquaculture, run-of-river hydro projects and the need to resuscitate the country's ailing democracy.
May attacked what she said was the Conservative government's failure to promote more renewable energy initiatives as part of the latest round of infrastructure spending.
Even China's $600 billion in infrastructure spending emphasizes its transition from being the world's predominant supplier of cheap consumer goods to a leading producer of energy-efficient and renewable energy-related technologies.
May called on her supporters to speak with friends, family and neighbours in an effort to reinvigorate the political process in the riding and beyond.
"Electing anybody else isn't going to change anything," she said.
"When I'm in the House of Commons as the leader of the Greens, I'm in a different position than a backbencher for the Liberals or a backbencher for the NDP, or even a downwardly mobile minister of state for sport."
Despite its leader's optimistic spirit, the modest Green party machine will have to contend with Lunn's long-standing popularity in the riding.
Lunn has held the seat since 1997 as a member of the Reform, Alliance and Conservative parties.
In the 2008 federal election, one in which the NDP had no official candidate, Lunn grasped victory with a respectable 43.43 per cent of the riding's total vote.
The Liberal party's Briony Penn finished in second place with 39.36 per cent of the vote and Green party candidate Andrew Lewis received 10.45 per cent of the vote.
---
From The Saanich News:
Green leader will run in Saanich-Gulf Islands as May wins Saturday nomination.

It's official.
After months of speculation, Elizabeth May will represent the federal Green Party in Saanich-Gulf Islands. May easily beat out Stuart Hertzog, the Victoria-based writer and editor who challenged May for the nomination.
"It is so heartening to receive such an overwhelming vote of confidence from the grassroots of our membership," said May in a Green Party press release sent out after the Saturday night nomination meeting at the Mary Winspear Centre in Sidney.
"I have been overwhelmed by the response from the community. I am ready to get on with the 'real' campaign – to win a seat in parliament.
Every single day, voters in this riding tell me that they have worked or voted for other parties in the past, but now are uniting for real, positive change."
About 100 people attended the meeting.
May chose Saanich-Gulf Islands after courting several ridings across the country that Green strategists thought gave the party its best shot at winning a seat.
A Nova Scotia resident, May was born in Connecticut in 1954 and moved to Atlantic Canada with her family in 1972.
After spending time in her new riding this summer, May committed herself to moving to B.C. and trying to become the first Green party member to be elected as an MP.
May's campaign office is located at 2417 Beacon Ave. in Sidney.
---
Vancouver, B.C. - One of Canada's most-loved authors is asking his thousands of fans across British Columbia for a birthday present.
Farley Mowat, whose books have been translated into 20 languages and sold in the millions around the world, turns 88 on May 12. He has one wish on our election day: vote yes for BC-STV.
The author of such time-honoured books as Never Cry Wolf (1963) and Sea of Slaughter (1984) says British Columbians have the opportunity to finally retire our current outdated voting system and set the standard for democracy right across the country.
On May 12, in a province wide referendum on electoral reform, voters will have a chance to make history and change the way politicians are elected.
British Columbians will choose between the current "first-past-the-post" system and the STV system that was recommended overwhelmingly by the Citizens' Assembly on Electoral Reform.
In the last election, BC-STV received more votes than any political party, nearly 58 per cent. However, the referendum requires 60 per cent approval to be adopted by the government.
British Columbians for BC-STV is the official proponent of the single transferable vote (STV) system, as proposed by the BC Citizens' Assembly on Electoral Reform in 2004.
On May 12, British Columbians will keep the old system or accept BC-STV, a new way of electing MLAs as proposed by the Citizens' Assembly.
The assembly was guided by three basic values: Fair Results, Effective Local Representation, and More Choice. How does BC-STV yield fair results?
BC-STV wastes few votes. A wasted vote is a vote that does not help elect anyone. Under the current system, in most elections just over half of all votes are wasted and those voters could have stayed home for all the difference their vote makes.
Increasingly, more do stay home. Such voters have no one in Victoria they helped elect, no one to represent them. They are orphans in our democracy.
But wait, it gets even worse. Votes that are in excess of what an MLA needs to be elected are also wasted. On that measure, 64 percent of all votes in the 2005 election were wasted.
In contrast, BC-STV makes very efficient use of votes. The theoretical maximum number of wasted votes is about 18 percent, province-wide. That is a huge improvement over what we have.
The current system delivers results that on any measure are completely unfair. Is it fair that in the 2001 election, every 11,907 Liberal voters were rewarded with one seat, but it took 171,578 NDP votes to get one seat, and the nearly 200,000 Green voters got no seat at all?
Is it fair that the vote, our most precious democratic possession, is more powerful for British Columbians of a certain partisan stripe than that of others?
Occasionally, our voting system is so perverse that the party with the most votes loses to a party with fewer votes, as was the case in 1996. Is it fair that, regularly, a minority of the votes is translated into a majority of the seats for one party? Should majorities not be earned, rather than manufactured?
Pundits always say we get the government we vote for. That is true in most places in the world but not in British Columbia. BC-STV has far fewer wasted votes and therefore translates votes into seats far more accurately than the system we have.
Will BC-STV elect many small parties making government weak as in Israel and Italy? No. This is not proportional representation as commonly understood.
The proposal is for relatively few seats per district to weed out small parties, and the preferential vote of BC-STV weeds out extremist parties. Votes are for candidates not parties, while independents, unencumbered by party bosses, do get elected.
The choice is not between, fair voting or stable government. Currently, we have neither fair voting nor stable government. British Columbians deserve both, and BC-STV delivers both.
The present voting system is unfair to voters and it frequently produces wild swings in public policy. In the 1990s, British Columbia went through 7 premiers in 10 years.
By exaggerating the strength of some votes the current system ensures that BC politics is always more volatile than BC voters.
The Citizens' Assembly had it right: do not expect stability in politics and government until votes are treated equally and fairly.
For more information about BC-STV, you can view and download this ebook. There is a BC-STV infomation session at GISS multi-purpose room
on Rainbow Road at 7 PM on Monday, April 27, 2009.
You can visit our BC-STV information booth at the Saturday Market.

---
"Happy Earth Day to you, Happy Earth Day to you, Happy Earth Day dear Salt Spring, Happy Earth Day to you..."
Creekside Rainforest Celebration & Thank You Reception
The big party was held at ArtSpring on Tuesday night and the celebrants were treated to an outstanding selection of Salt Spring Island's best in wine, food, music and art.
Harry Warner introduced Ed and Gail Peekeekoot who gave us a sampling of the wonderful music they were to share on Friday at El Zocalo.
Former British Columbia Lieutenant Governor & TLC Honorary President Iona Campagnolo (who was raised on Galiano Island), and Campaign Coordinator Maureen Moore (as well as several others), thanked all the folks who helped to save Salt Spring Island's Creekside Rainforest.
(see the list below)
Then Harry and The Black Velvet Band entertained while we mingled and celebrated this latest victory to preserve part of this special island for generations to come.
In case you're new and don't know what all the fuss was about, here are a couple of videos that tell the story...


Watch Heather Robinson's report on CBC Television News
"Congratulations and thanks to everyone who has contributed money, time, creativity, and positive energy toward the preservation of Salt Spring's Creekside Rainforest. When all the pledges come in, we will have accomplished the seemingly impossible. As campaign coordinator, I am thrilled to make this announcement on behalf of all supporters who have worked so hard and given so much to protect this precious temperate rainforest and salmon creek. It makes me so happy to live in such a vital and generous community. This island's passionate support made ANOTHER Salt Spring "miracle" come to pass. Together we have saved an example of one of the rarest ecosystems on Earth." - Maureen Moore
(from The Gulf Islands Driftwood, April 2, 2008)
Thanks to everyone who worked long and hard to save Salt Spring Island's Creekside Rainforest:
Appeal Coordinator
Maureen Moore
Core Worker Bees
Matt Tobey, Pat Barclay, Sheila Ie, Deborah Miller, Jenn Johnson, Megan Hyslop, Juliette Laing
Forest Guides
Matt Tobey, Rick Laing
Websites & Maintenance
Matt Tobey, Tina Kempling, Dave Lettinga
Poster Design & Communications
Mike Wall, David Denning, Matt Tobey
Community Posters & Brochures
Jo Yard, Deborah Miller, Maureen Moore
Telephone Outreach
Sharon McCollough, Deborah Miller, Jo Bealy, Nancy Tyler, Megan Hyslop, Pat Barclay, Sheila Ie, Maureen Moore
Publicity Team
Deirdre Rowland, Pat Barclay, Matt Tobey, Maureen Moore
Editors & Proofreaders
Judi Stevenson, Harry Warner, Maureen Bendick, Nora Layard, Pat Barclay, Maureen Moore
Volunteer Treasurer
Fraser Hope
Island Mailouts
Pat Barclay, Debora Miller, Nichola Walkden, Sheila Ie, Juliette Laing, Maureen Moore
FUNDRAISING EVENTS:
"Unless The Eye Catch Fire"
PK Page, Romany Miller, Pat Barclay, Don Tarris, Vaughan Fulford
Reading For The Rainforest
Arthur Black, Pat Barclay, Brian Brett, Shirley Graham, Peter Levitt, Kathy Page, Murray Reiss, Chris Smart, Mona Fertig, Sandi Johnson, Derek Lundy, Kelsey Mech, Briony Penn, Elizabeth Woods, Evelyn White, Donn Tarris, Osman Phillips, Maureen Moore
Art for The Rainforest Art Sale & Silent Auction
Birgit Bateman, Robert Bateman, Alan Bibby, David Borrowman, Andrea Collins, Janet Dwyer, Steve Friedman, Tamar Griggs, Susan Huber, Amarah Gabriel, Shari MacDonald, Theresa Mackey, Osman Phillips, Karen Reiss, Samantha Sanderson, Kevin Steinke, Phyllis Webb, Stella Weinert's Gr 4/5 class for their paintings
Rainforest Gala & Winemakers Dinner
Sheila Ie, Pat Barclay, Rick & Juliette Laing, Jesse Blanchette, Myles Ferryman, David Godfrey & Godfrey-Brownell Wines, Arthur Black, Lynne Raymond, Adrian Selby, John & Alicia Herbert, Anna Squier, Shelley Lawson, Karen Hudson, Lianna North, Lesley Kimber, John Keller, Richard Badman, Maureen Moore
Dessert Bakers
Deborah Miller & David Denning, Ellen Karpinski, Jane Petch, Gillian Kidd, Jacqueline Thomas, Andrea LeBorgne, Ruth Tarasoff, Joanne Montrichard, Rosemary Herbert, Jane Squier, Sharon Maldover
Rainforest Music Event in Victoria
Dylan Stutt & Friends, Ocean Island Backpackers Inn
Publicity Photos
Shari MacDonald, Susan Huber, David Borrowman, Matt Tobey
Donation Liaisons
Bill Turner, Cassie Holcomb, Tom Arnold, Maureen Moore
Scientific Team
Bristol Fraser, Katherine Dunster, Kimberley D. Kornbacher, Kate McEwen, Terry McIntosh, Kathy Reimer, Lara Matthias, Briony Penn
You Tube Video
Brandy Glovka, Alan Micelli, Donn Tarris, Matt Tobey, Pat Barclay, Maureen Moore
Special Friends And Dedicated Helpers
Judi Stevenson, Harry Burton, Adina Hilderbrandt & Andrew Haigh, Barbara Caves, Trish Maddison, Eileen Wttewaal, Christine Waymark, Anne Buckley, Erin Porter, Sarah Bateman, BACARA, Ian Abbott, BJ Vicks, Aaron Ableman, Ian Tamblyn, Robin Ferry, Aileen Hope, Salt Spring Centre School, Fulford Elementary Nature Club, Salt Spring Books, Don Logan, Eduard Andringa
Salt Spring Island Rainforest News
Sheila Ie, Pat Barclay, Matt Tobey, Harry Burton, Arthur Black, Bill Turner, Iona Campagnolo, Tom Gossett, John B. Sprague, Andrea Collins, Dr. Margaret Fulton, Bristol Foster, Peter Levitt, Bill Henderson, Mary Toynbee, Adina Hilderbrandt & Andrew Haigh, Bob Wild, Judi Stevenson, Briony Penn, Jai Wilson, Kathy Page, George Sipos, Rick & Juliette Laing, Shari MacDonald, David Borrowman, Mike Wall, Salt Spring Granny, Birgit Freybe Bateman, Salt Spring Centre School, Leslie Wallace, Don Stevens, Shirley Morassutti-Horvat, Imagine That Graphics, Valerie Tabone, Jen Hobson
Creekside Rainforest Celebration & Thank You Reception
Many thanks to the following organizers, volunteers, guest speakers and businesses involved: Deborah Miller, Adrian Selby, Sheila Ei, Rick & Juliette Laing, Shelley Lawson, Nichola Walkden, Bill Turner, Bob Weeden, Susan Paynter, Richard Badman, Cassie Holcomb, Jen Hobson, Harry Warner, Ed & Gail Peekeekoot, Briony Penn, Jane Squier, The Black Velvet Band, Maureen Moore, Garry Oak Vineyards, Salt Spring Coffee Company, Moonstruck Organic Cheese, Thrifty Foods, Arigado Sushi & Teriyaki, Jana's Bakery, Ganges Village Market, Embe Bakery, Salt Spring Island Cheese Company, Wildfire Bakery in Victoria, Natureworks, ArtSpring, Salt Spring Painters Guild, Salt Spring Island Conservancy, Islands Trust Fund, Salt Spring Island Foundation, The Land Conservancy and TLC Honorary President Iona Campagnolo.
Here's the latest Salt Spring Island News.
Salt Spring Island Transit Is A Popular Success!
Having begun service in January, 2008, Salt Spring Island buses carried a record 657 passengers this week and ridership is only expected to increase as summer approaches.
Stepping up to meet the demand, Salt Spring Island Transportation and Transit Commission is releasing an enhanced summer transit schedule, effective May 3.
There'll be a trial, Saturday-only loop route to the government wharf in Fernwood that will take summer riders from the Visitor Information Centre in Ganges, along North End, Fernwood and Walker's Hook roads, and returning via Maliview and North End Road.
Summer riders will also see more frequent service to Fulford and Long Harbour, plus four express routes from the Visitor Information Centre to Fulford Harbour that will have limited pick-up and drop-off along Cusheon Lake Road.
The current Vesuvius route will be re-routed to include Mobrae Avenue.
Two new Salt Spring Island schedules will be printed: one for the May 3 to June 24 route, and another covering June 25 to September 1. They'll be available on buses and in retail outlets before the new schedules begin.
Subscribe To Salt Spring
Island Lovers Newsletter
Return from Salt Spring Island News to SaltSpring-Island.com