Salt Spring Sound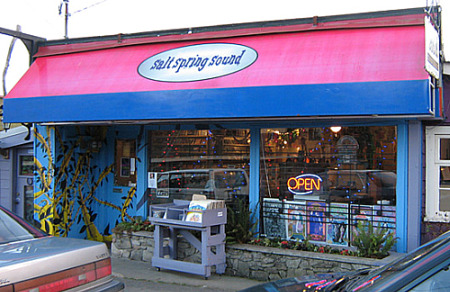 Salt Spring Sound ~ Records, CDs, Musical Instruments,
Books and Accessories...
Under new ownership, we are a book and music shop:
SALT SPRING SOUND & BOOKS.
We deal in old and uncommon works of fantasy and imagination, science fiction, mystery, and odd fiction of all types. Also, antiquarian books in many fields, illustrated books and related items.
The shop deals in books as well as musical instruments, records, cds and related items.
We are always prepared to buy interesting old books, musical instruments, and other items of interest.
Books, Records, CDs
Mailing Address:
131 McPhillips Ave, Salt Spring Island,
British Columbia ~ V8K 2T6 Canada
250-537-0065
June 1, 2011
Under New Managament!
Salt Spring Sound Has Been Purchased by Tim and Barb Cahill
of Salt Spring Island.
Watch This Site For New Developments.
saltspringsound.tim@gmail.com