Alan Moberg
Mr. British Columbia
By Annie Palovcik
Posted: Tuesday, June 1st, 2010


B.C. crooner Alan Moberg has been painting vivid pictures of the province he loves for over four decades. Along the way, he has released 16 albums and been inducted into the B.C. Country Music Hall of Fame.
Alan was born on the coast near Pender Harbour to a fishing family, and has always done hard and rugged work throughout the province, whether fishing, logging, or as a telephone lineman, merchant seaman or landscape gardener.
"When I was young," says Alan Moberg, "I heard many songs about places - certainly in the United States they celebrate their places - I heard the songs from back East that celebrated places in Nova Scotia and Newfoundland. But I heard very few songs about British Columbia. So, one of my missions has been to write these songs about B.C. and her people."
Howard White, publisher of the well-loved *Raincoast Chronicles* says, "Moberg has lived the west coast experience to the fullest, he brilliantly conveys his love and attachment to the great spaces and unforgettable people of his home turf.
From evoking a starlit night on the Skeena to calling the boisterous action of the Williams Lake Stampede, from depicting the miraculous journey of the wild salmon to painting the heartrending beauty of the Cariboo sunrise.
Moberg does for B.C.'s interior ranchland and coastal rainforest what Ian Tyson does for Alberta cow country and Stan Rogers did for the Great Lakes."
Alan's musical career began when he wrote the song "Saltwater Cowboy" in honour of the man who most influenced him to start playing the guitar, the man "who taught me my very first chords."
Red Nicholson lived next door to him, and he played the guitar and sang the old songs. "I was enthralled, of course, by what he could do, the stories he told," Alan remembers.
These neighbours had moved their house from a logging camp in Jervis Inlet down to Pender Harbour. "The bay we lived in was a tidal bay, and they floated those houses in on the tide as high as they could onto the shore and built foundations under them." Many of Alan's songs capture historical snapshots of a way of life that has ended. "Sunday Night Seine Boats," for example, takes listeners to a time when fishing was in its heyday.
The Williams Lake Stampede, an institution for more than 80 years, is still going strong. When Alan wrote his classic song, "The Williams Lake Stampede,"people used to camp right beside the fairgrounds. Some of them even came in horse-drawn covered wagons.
At the Stampede, different cowboy skills are tested, like saddle bronc riding and bull riding. "It was also a time when people got together," says Alan, "when probably in those older days they wouldn't have seen each other all year because they were busy on their own ranches and distances between them were far. So, it was a time to swap stories and enjoy being together."
Alan is one of the finest yodellers on the Coast. "I remember being at a Roy Rogers movie as a child." He has been yodelling ever since.
"Alan has many gifts, not the least of which is a bell-like vocal quality, which we don't hear enough of today in this less-than-gentle musical time," says Canadian country singer Laurie Thain.
Alan's ballads contain traditional western themes of bravery, innocence, survival and of his admiration for the cross-cultural friendships Canadians share with First Nations people. "Song for an Indian Carver" is a tribute to his Gitxsan brother, the late Walter Harris, who received both the Governor General's Award and the Order of Canada for his magnificent artwork.
"[Walter's] mother, Mrs. Harris, adopted me," says Alan. "It's a matrilineal society in their culture and the crests of the tribe are passed on through the mother. So, I am now a Killer Whale, by adoption at a traditional feast."
Like many of his heroes, Alan Moberg has walked the long hard road of life and has known when to ask for a helping hand. As a result, gospel music is part of Alan's repertoire. His song "This Could be the Day" has been performed by The Mennonite Men's Choir of Abbotsford and the choir of Knox Presbyterian in Chattanooga, Tennessee.
Not everyone can live in a house on Rainbow Road, which Alan did, but he has used that as a metaphor for choosing to leave the big city and come to a more simplified style of life on Salt Spring Island.
His songs celebrate the lives of ordinary men and women, giving them identity and dignity. He sings reflectively, "We're tired of chasing that elusive pot of gold."
But simplicity doesn't mean stagnation. Besides being a landscape gardener, Alan has become host of a program on Salt Spring's new radio station, streamed live at www.cfsi-fm.com each Wednesday at noon, The Alan Moberg Show. He airs many of the songs he has loved and performs, from early Elvis Presley and Johnny Cash to Roy Orbison and Guy Clark. In his late 60s, Alan continues to perform his music throughout the province. "Sometimes, I think I'm so young!"
JUNE 2010 SENIOR LIVING MAGAZINE
VANCOUVER ISLAND
Hear Alan Moberg:
Jun 27 Country Gospel Music SundayFest Providence Farm, Duncan
Jul 1 Canada Day Show & Shine - Antique Cars Rainbow Road, Salt Spring Island
Aug 1-2 Capital Festival's B.C. Days St. Ann's Academy, Victoria
Wednesdays, noon, The Alan Moberg Show 107.9 FM, or www.cfsi-fm.com Cds at www.alanmoberg.com
Alan Moberg's song, Sally June was selected to be in the Province Playlist Top Ten Picks July 27, available for free download for a month. It deals with the worries of a Native coastal family when a young girl leaves for the City.
This poignant song honours the many families who have worried, and those who continue to worry, about what is happening to their daughters.
Songs to Dream by, Delight in, of BC's Coast, Country and Heart
Alan Moberg... He's country. He's folk. He's Western Roots. He's gospel. He's known as "The Saltwater Cowboy" for his blended identity: a singer of the coast and a singer of BC's interior ranch lands, a singer of its diverse people, with an admiration for the First Nations.
Alan Moberg is BC's most authentic troubadour, a "West Coast Stan Rogers", known for his bell-like tenor vocals. He is a simple but powerful performer, just a man and his guitar, but a big presence.
Alan Moberg's songs speak to the human condition, evoking notions of ongoing endurance, perseverance, travails and triumphs with simplicity and directness. He celebrates the lives of ordinary men and women, giving them identity and dignity. He puts smiles on our faces and in our hearts. He gets toes tapping. Soon we're all celebrating. Let his music enrich and uplift your spirits.
Alan Moberg was inducted into the BC Country Music Hall of Fame in 2008 for his extensive body of original and moving songs about his beloved British Columbia, with traditional western themes like bravery, innocence, survival and the cross-cultural friendships we share with First Nations people.
Howard White of Harbour Publishing, says that "Moberg does for BC's interior ranchland and coastal rain forest what Ian Tyson does for Alberta cow country…
... a moving portrayal of the west beyond the west by a virtuoso singer-songwriter." "Alan is no doubt one of Canada's best".
– CIUT Radio, Toronto.
He was honoured in 2009 at the Williams Lake Stampede for the 40th anniversary of his "Williams Lake Stampede Song". This folk song has promoted BC's cowboy culture round the world.
These days he is wearing more than his cowboy hat.
After decades making music from vinyl to downloads, Alan Moberg becomes a radio host.
The Alan Moberg Show broadcasts Wednesdays from Salt Spring Island, BC on CFSI-FM at 107.9, and is heard worldwide at www.cfsi-fm.com, noon to one, Pacific Time.
The Alan Moberg Show is a fascinating mix of his many recordings (sixteen albums in total) as well as songs and singers he loves well and who have influenced his music - such as Johnny Cash, Guy Clark, Rodney Crowell, Townes Van Zandt, Elvis Presley, Roy Orbison, Stuart Hamlin, T Texas Tyler, Paul Robeson, Hank Snow, and yodeling mentors such as Roy Rogers.
Listen to Alan Moberg as he weaves a magical musical radio spell, Wednesdays, with songs and stories to dream by and to delight in.
Let Alan know you're listening alanmoberg@telus.net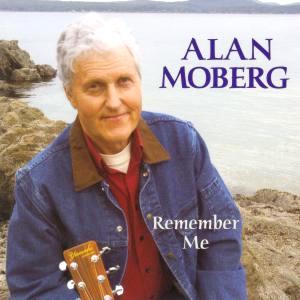 Alan Moberg has sixteen recordings, with his latest,
REMEMBER ME released in 2008.
Radio airplay coast to coast, in the U.S., Ireland and Australia. He has charted in the Top Ten of Folk/Roots/Blues at university and community radio stations. Recent television appearances on BC Global TV and CFJC in Kamloops.
Click to hear sound clips from "Remember Me"...

Return from Alan Moberg to SaltSpring-Island.com