Imagine what it would feel like to...

    - work from home
    - do something you love
    - spend more time with your family
    - and have no more boss to answer to!

Will 2019 be the year where you'll finally realize these dreams? Only you can make that decision.

But when you do, we are here to help, every step of the way (and now is the best time to get started - more on that below).

With Solo Build It!'s step-by-step guidance and comprehensive suite of business-building tools it's easier than you may think.

"The step by step process just can't be beat and helped grow my confidence that I could really build a site and a business. It's just so user friendly!"
- Michael Bates, www.dyslexia-reading-well.com

"I can't thank you enough for making it possible to stay home and make a living for my family."
- Debbie Madson, www.kids-cooking-activities.com

Join Michael, Debbie, and the thousands of solopreneurs who've created a better life for themselves and their families with Solo Build It!.

And, because it's THAT time of the year, you know, with gifts and all, we've prepared a very special gift for you:

The Solo Build It! Buy-1-Get-1 Free Holiday Special!

From now until December 28th, you'll get two annual SBI! or SBI! for WP subscriptions for the price of one.

Surely you know of someone who dreams about building a better future for him- or herself? You have a full 12 months to gift them with a free SBI! subscription.

What if you can't find someone to take you up on your special gift? No worries. If after the first year, you haven't given away the bonus SBI!, we'll add an additional 6 months to your first subscription, for FREE.

With Solo Build It!'s Buy-One, Get-One FREE Holiday Special, your life AND the life of a loved one can change for the better, and all for less than $1 a day.

Not sure which product is right for you? Other questions? Head over here.

P.S. Don't forget! This year's special ends on Friday, December 28th, at Midnight Eastern Time.


---
"So What's Your Favourite Salt Spring Island Experience?"
Salt Spring Island is the Pacific paradise located halfway between Vancouver and Victoria, British Columbia.
Salt Spring Island (or Hippieville, Canada, as it's sometimes called) is one of those magically unique places that has to be seen to be believed... Dubbed the "coolest island in Canada" by the Washington Post, we are home to over 10,000 free spirits, artists, writers, musicians, organic farmers, alternative therapists and a sizable Buddhist community. 
If you've ever wanted to get away from all the hustle and bustle of city life and flashback to a mellower era, SSI is the place for you.
You can just feel the stress and anxiety melt away as your mind and body happily adjust to "island time"...
SALT SPRING'S

ICONIC

TREE HOUSE CAFE
THE FAMOUS SALT SPRING SATURDAY MARKET
I'm Bill Nash and I live here on this beautiful, enchanting isle.
SSI is awash with rocky inlets, kayak-friendly waters, evergreen forests and a tradition of tolerance. Also, thanks to liberal Canadian laws, a faint whiff of marijuana still tends to waft on the breeze.
Salt Spring's lifestyle fest reaches its zenith at the Saturday Market in the village of Ganges, which sells crafts and organic food.
If you've never been to Salt Spring Island before, let's just say that it's probably different from anything you've experienced. I call it "The Vibe", as in "good vibrations"...
Ever wonder where all those '60's "flower children" ended up? Well, a lot of them discovered this place and never left. Now they have flower children of their own.
But it's not just "hippie heaven" here.
All sorts of folks now call this island paradise home: artists and artisans, photographers, retired CEO's, plumbers, pilots, journalists, actors, directors, ferry workers, bus drivers, musicians, New Agers, internet entrepreneurs, organic farmers, sheep ranchers, bed & breakfasters...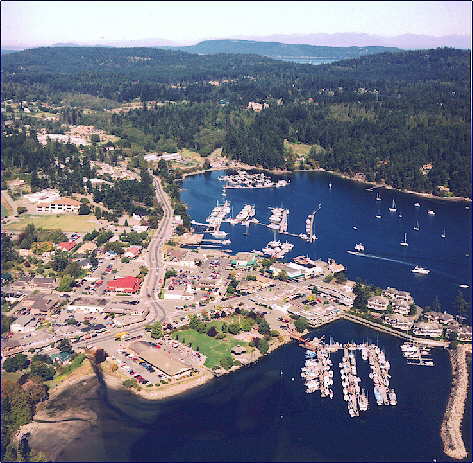 Ganges Harbour
Remember when Joni Mitchell sang "they paved paradise and put up a parking lot"? Well, that's what happened to Pitt Meadows, my hometown.
Lots of folks started moving out there to get away from the city and it eventually became a suburb itself.
But Salt Springers have an ace in the hole...
It's called The Islands Trust Act which severely limits development and growth here and on several other Gulf Islands. Even so, it's still an ongoing struggle and the topic of many a conversation around here.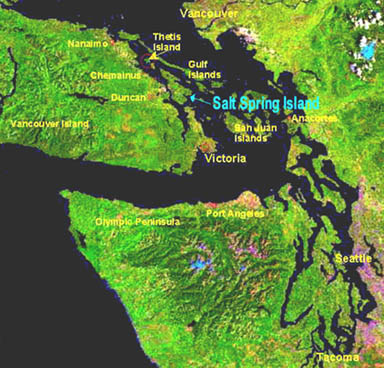 Local businesses provide a complete range of trades, services and professions. We have excellent shopping for the essentials as well as some totally awesome specialty shops.
You can swim, golf, go horseback riding, play tennis, sail, or kayak 365 days a year.
Our artistic community provides a wonderful variety of plays, concerts, art shows, studio visits and learning opportunities.
"You're welcome as a visitor, but be warned: many who came for a casual visit are now residents."
We have a temperate Mediterranean climate - not too cold and not too hot. About 34 inches of rain each year keeps everything so green.
We receive very little frost and many winters have no snow at all. We have no poisonous snakes and the largest predator is the raccoon.
Our life style is relaxed and undemanding. It's a place to be who you want to be and do what you want to do.
You can find seclusion without isolation.
Four large cities: Victoria, Vancouver, Nanaimo and Seattle
are within easy reach.
There are frequent daily ferry trips to Vancouver Island and the mainland of British Columbia.
Float planes make scheduled trips to Salt Spring several times a day.
This Pacific jewel, halfway between Vancouver and Victoria, is truly an island paradise...
Conde Nast Traveler, one of the best travel magazines in the world, voted Salt Spring the #3 Best Island In North America!
Aaah! Salt Spring Island...
You're never far from those crashing ocean waves and that refreshing salty scent of the sea...
Pristine inviting beaches, shimmering turquoise lakes, emerald green forests, and more deer than you've ever seen in one place...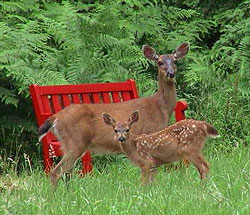 And you can see it all from our towering mountains.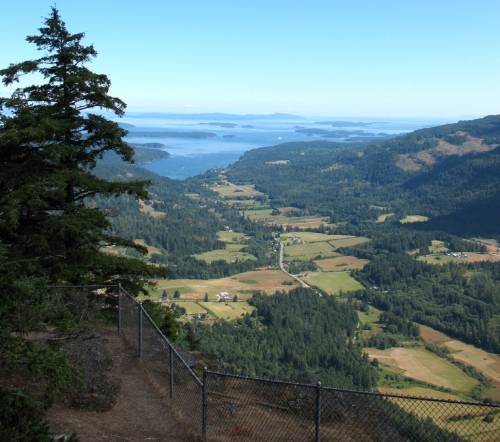 We invite you to come visit us to explore and discover the magic for yourself.
Subscribe To Salt Spring News
All the best from beautiful Salt Spring Island, BC
Bill Nash
Salt Spring Internet Radio is owned and operated by entrepreneur Bill Nash
Publish your own Salt Spring travel stories... Do tell...
If you are a lover of Salt Spring Island... or if you'd simply love to learn more about us... and about this beautiful hidden gem of an island, please subscribe to Salt Spring Island Newsletter.
Salt Spring Island musicians: talented folks like Bill Henderson and Valdy
Bill Nash here on beautiful Salt Spring Island...
Happy Daze was a high energy 50's, early 60's rock & roll dance band based on Salt Spring Island, BC
Salt Spring Island camping is something special...
Salt Spring Island BC: detailed directions on how to get to this Pacific island paradise...
Salt Spring Island Fact: "You'll want to come back..."
Salt Spring Saturday Market is Canada's best loved outdoor arts, crafts, and farm market...
The Salt Spring Studio Tour invites you to stop off at the workshops of 33 artists and artisans...
Privacy policy for SaltSpring-Island.com
Just email us using this handy contact form...