Ken Rouleau Peace Park
Memorial April 22, 2012
Ken Rouleau Makes Peace  With ALS Outcome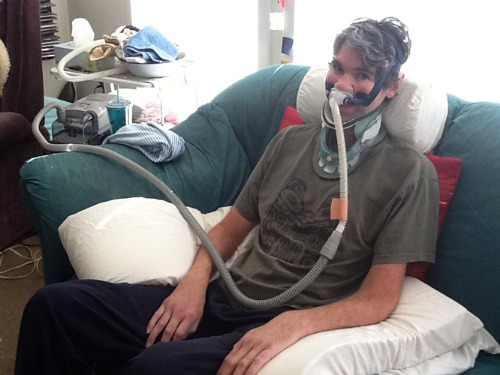 ALS sufferer Ken Rouleau hooked up to oxygen at his home.
Photo Contributed
By Elizabeth Nolan - Gulf Islands Driftwood
Published: November 02, 2011
Community activist and former caregiver Ken Rouleau is living in a state of borrowed time.
Since September he has been continually connected to an oxygen machine, without which support he would stop breathing. His head and neck are held up with a brace, and his activity usually takes him within just a few square feet: from the armchair where he sleeps to the sofa where he spends his days.
A diagnosis in August 2010 of ALS (amyotrophic lateral sclerosis), a fatal neurodegenerative disease, has led to a rapid physical decline that Rouleau and his friends could not have guessed the extent of. It's a shocking change for someone who was often seen around town just last summer with his son Dorian (now aged five) or his special needs wards.
"It's been one year. What an amazing journey," Rouleau said during an interview at his home last week.
"It's been a sobering lesson — wonderful and weird at the same time — watching your body disappear, but being able to share that experience with anybody who's interested."
Last fall Rouleau stated he was unwilling to give in to grief and was set on achieving a long-term remission. But several months later he had accepted his outcome would most likely be different, and a near-death experience last month only underlined that fact.
"In the spring I realized I would die before the end of the year. I let my friends and family know, 'This is what's happening and I accept it,'" he said.
People living with ALS experience progressive paralysis as the motor neurons in their brains and spinal cords degenerate. According to ALS Canada, 80 per cent of people with the disease die within two to five years of diagnosis because they are unable to breathe or swallow.
Rouleau's diagnosis came about after he experienced constant muscles spasms in his chest. Today, his arms are paralyzed, his legs are going and his neck muscles are fully atrophied. His lungs are down to around 15 per cent capacity.
His regular support system includes his "super-hero" partner, Christina Siegers, as well as a step-sister who moved to Salt Spring to take care of him, a large group of volunteers and homecare workers who visit during the day. Rouleau said he's been overwhelmed by the kindness of the community, which first came out to support him with a couple of fundraisers held last year. Since then his family has received countless calls, visits, care packages, food and gifts for his son.
"It's just amazing. Ever since last year the whole community's been involved," he said.
"You don't really expect that response."
Since September the family has had to limit the stream of visitors, which has been hard to do when there's so much love and concern, Rouleau said. But after he stopped breathing one night, the situation has become more intense and stressful for everyone involved.
"It's constantly uncertain. We're all aware, completely, that my passing isn't so far away," he said.
"I feel like I'm on borrowed time. It gives me another day to hang out with Dorian, or engage in the world, or hang out with family and friends and have a good conversation."
Despite becoming "ALS Ken," Rouleau is staying active in the arena of political and social discourse that has motivated most of his life. He has discovered how to type with his toes on his iPad so that he can continue his research on various topics, and he continues to co-host his CFSI radio show with Dave Campbell by phoning in to the station's caller line every Wednesday night.
A huge weight has been lifted from his shoulders since passing off his longtime book project on Canadian sovereignty and illegal income tax to an acclaimed Canadian journalist. Linda McQuaig, author of All You Can Eat and It's The Crude, Dude, has agreed to take on his 10 years' of research material and draft chapters.
"That was really exciting. It was a whole load off my mind to know this thing I've been working on won't die with me," he said.
As someone who was recently an active member of community life, Rouleau misses seeing people. Someday soon he wants to load his oxygen tank's huge battery pack into the car, drive into town and lean on the horn just so everyone can see him and say hi.
His other major regret is missing out on future family events, particularly with his young son. But overall he is not afraid of death, and because his condition involves very little pain, he's been able to consider and discuss the idea at length and with clarity.
"Ever since September my life has been about the meaning you make with the time you've got and your abilities," he said.
"Death is a passage to somewhere else. I look forward to that — I think it will be exciting, without being in a rush to get there."
Anyone who would like to learn more about Rouleau's journey can check the blog at www.caringbridge.org/visit/kenrouleau, which he updates with status reports every couple of days. Visitors are welcome but should call first.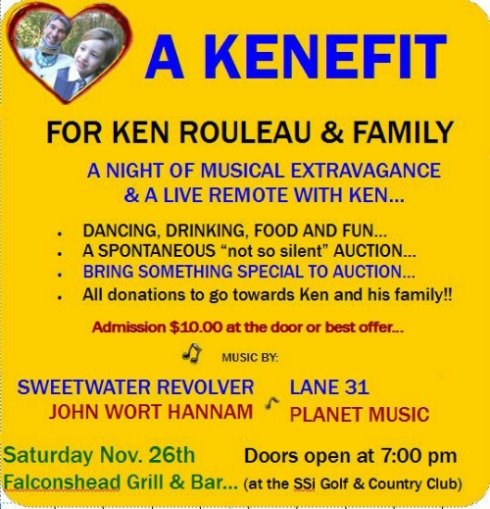 Or you can send your cheque or international money order right now to:
Island Savings
124 McPhillips Avenue, Salt Spring Island, BC V8K 2T5
"In Trust For Ken Rouleau"
Ken Rouleau
"May You Live Long And
Live Well"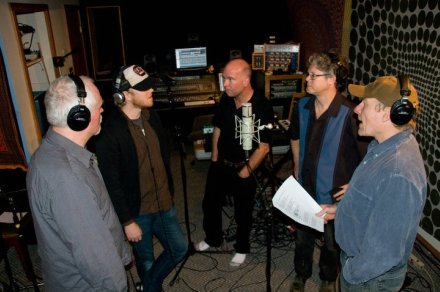 Photo by Sheri Macdonald
Listen to a sample of "May You Live Long And Live Well"


Please join me on Sunday December 11 & 18 at 4 PM
when we present the entire live broadcast of The Kenefit 2 FUNdraiser For Ken Rouleau. LISTEN NOW...

Return from Ken Rouleau to SaltSpring-Island.com