Salt Spring Astrologer
Linda Frost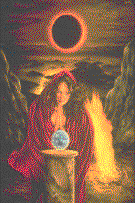 Astrology is an ancient science and valuable tool for gaining information that can bring greater awareness of our life path and direction and a deeper understanding of who we are at a core level in all aspects of our life. By reviewing current transits and progressed charts, we can explore what is being activated at this time and are better prepared to move forward on our evolutionary journey.
Background: I began my study of astrology in the early 70s with the late Isobel Hickey, a remarkable woman who was much loved and respected by both those in astrological circles and those who attended her lectures in Boston, Mass. Over the past 37 years, my passion for astrology as a service to others has continued through studies with many teachers, attendance at workshops and conferences, teaching, psychic fairs and events, conducting workshops, writing columns and media appearances. I have read for hundreds of clients and this remains the primary focus of my work.
My Goal is to inform and be of service to others by helping them to understand their own unique journey and to bring clarity in times of challenge and change.
My Approach is to offer the insights of the astrological charts (natal, progressed and solar return charts, current transits) by reading the energies at play and communicating the messages of my guides. I encourage clients to receive what is offered in the flow of the reading but there is room for questions and focus on specific topics of interest such as relationships, career, finances, relocation, etc.
Readings are approximately one hour in duration though shorter and longer readings are available. These are best conducted in person but are also available as digital recording via email or at gatherings, parties and events by request.
Printed reports are also available. These are generated according to birth data and though not my personally written text are put together by respected astrologers and can be most helpful to those who prefer this medium or would like to offer them as gifts. Reports are from 8 - 20 pages in length depending upon type. (Available reports: Personal Report, Cayce Past Life Report, Child Report, Solar Return Report, Compatibility Report)
One hour personal or compatibility reading $100
Report (any type) $30
Parties / Events: Quote by request
Gift certificates available
For questions or further information
(250) 537-1065
banfeasa@gmail.com.com